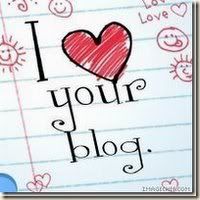 I was given the "I Love Your Blog" award by
CookingMom
. I've been seeing these "I heart your blog" graphics all over and started feeling sort of left out, thinking my blog probably did suck... but now someone loves me!!!
Thank you so very very much! I'm all warm & fuzzy feeling inside now.
This is a "pay-it-forward" type of award, so there are rules to accepting it. They are:
* Display your award.
* Link back to the person who gave you the award.
* Nominate at least 7 other blogs.
* Put links to those blogs on yours.
* Leave a message on the blogs of the people you've nominated.
* Enjoy your award!
I had to pass this on to the blogger friends I have out there... a few of them I probably sucked into this whole blogging thing in the first place.