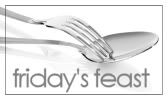 Fridays Feast... you should do it, too!
Come on.. you know you wanna!
Appetizer
What is the weather like today where you live?
Can I cheat? Is that allowed?
Mostly cloudy with showers and thunderstorms likely in the morning...then partly cloudy with a chance of showers and thunderstorms in the afternoon. Highs around 80. South winds 5 to 10 mph shifting to the west 5 to 15 mph in the afternoon. Chance of rain 70 percent.
Nope, I didn't write that... I stealed it from my WeatherBug!
Soup
On a scale of 1-10 with 10 being highest, how career-minded are you?
I honestly don't even quite have a grasp at what "Career-minded" means. I'm assuming it means how much into my career I am or something like that? Well, I don't have one and I never have. I was a rebel who wanted nothing to do with school once I got out of HS, so I found the quickest vo-tech college course I could find just to pacify my parents. Now, being a self-proclaimed, self-taught graphic artist I guess I can say that I am career minded because I put most of my mind into my work.

Can that go on record as being probably the dumbest answer ever?

Salad
What type of window coverings do you have in your home? Blinds, curtains, shutters, etc.?
Depends on the window. Blinds on some (most), but some of the blinds also have curtains over them... some windows just have curtains, like the demons because when they were younger they did have blinds but they kept breaking them and tearing them down so once upon a time on a cold winter day, mama bear got pissed off and took the blinds away from the little demons and they never got them back again.

Main Course
Name something that instantly cheers you up.
a phone call from my Kimberella

Dessert
How many times do you hit the snooze button on a typical morning?

My alarm clock is a golden retriever - if you can tell me how to snooze that, I'll give you a cookie!