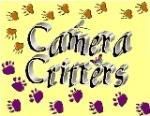 This week in
Camera Critters
Land:
Shot this one at the lake this afternoon... it's pretty in color, but I think it comes to life when I grayscale it!
Believe it or not, Saki isn't too sure about the water yet. She'll splash in it, but she won't dive in. There's lots of summer left, though!
We tried getting her to fetch a stick... even Chico wouldn't fall for it. He was trying to "paw" the stick to shore! LOL
and remember to keep your eyes open for a new blog meme,
Thursday Thunks
, coming soon!